2023
Finished reading 📚: Red Rising (Red Rising Series Book 1) by Pierce Brown.
The world Pierce Brown crafts is robust, full of details, and political intrigue. It is a cross between Dune and A Song of Ice and Fire in many ways. Highly recommend.
Finished reading: Building a Second Brain: A Proven Method to Organize Your Digital Life and Unlock Your Creative Potential by Tiago Forte 📚
This book is full of information to create a better digital organizational system. Whether you are just starting out on that journey or if you want to refine your existing one, you will find valuable information here.
I've spent the past 3 years refining my digital organizational system or Second Brain as Tiago calls it in his book. I've jumped around from Apple Notes, to Obsidian, to Evernote, and seemingly all options out there. This book didn't reinvent the wheel for me, but it also helped me fine tune my system. His CODE acronym is very helpful to learn his system.
My biggest takeaway helped show me how to properly revisit and dissemminate my notes for later use. In other words, he helped me organize them for action. And I think that's ultimately what our notes are about - how can I use this later. I am looking forward to using this new found piece going forward.
Finished reading: Kings of the Wyld (The Band, #1) by Nicholas Eames 📚.
A fun fantasy epic. Debut novel by Mr. Eames and I am a fan. Now, back to reading something for learning.
I wish I could take my Audible and Kindle books with me to another service to get somewhat less reliant on the Amazon ecosystem.
A few days ago, I finished reading Shoeless Joe, the book that inspired the film, Field of Dreams. Here are some deeper thoughts on a film and book that have helped to shape my world view:
As a baseball fan, Field of Dreams is at the top of my list for baseball films that showcase the love of the game. It goes without saying then that I would eventually find my way to the novel that inspired the film.
Shoeless Joe is different from the film in many ways, but at its core it is about a man who is called to follow his passion. And that has always been what has resonated with me. We can go through life just biding time, or we can choose to take risks and build baseball fields in Iowa cornfields. I hope to be like Ray and to watch others come follow their passions with me.
I'll end with one of my favorite quotes from the book:
"I wish I had your passion for baseball," Salinger says. "However misdirected it may be, it is still a passion. If I had my life to live over again, I'd take more chances. I'd want more passion in my life. Less fear and more passion, more risk. Even if you fail, you've still taken a risk."
Finished reading 📚: Shoeless Joe by W. P. Kinsella

The nostalgia is beaming through me right now. If you love baseball, you must read the book that inspired Field of Dreams.
Been utilizing Readwise more and more. It unearthed a fantastic quote from Man's Search for Meaning, that I had to share. Highly recommend this book.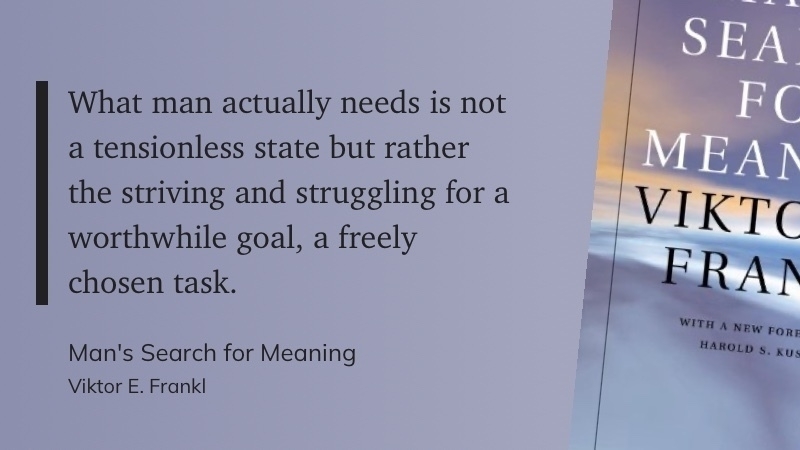 Currently reading: Shoeless Joe by W. P. Kinsella 📚

The baseball nerd in me has finally gotten around to starting the book that Field of Dreams was based on. Giddy with excitement!
Part of my reading the last year has focused on when to give up on books that don't interest me. A quarter of the way in and I just felt like I didn't learn anything new or interesting.

Abandoned: We Need to Talk: How to Have Conversations that Matter by Celeste Headlee 📚
Finished reading: Tuesdays with Morrie by Mitch Albom 📚

A nice reminder to live your life because eventually it will be taken from you.
Finished reading: The Old Man And The Sea by Ernest Hemingway 📚

Revisited a short, classic this weekend. Didn't enjoy it as much 16 years later, but still find Hemingway's writing style so good.
In 2022, I read 29 books, surpassing my goal by one. I mostly stick to science fiction, self-help and philosophy, and general fiction.
For 2023, I am changing it up a bit. The goal is one "fiction" and one "non-fiction" per month. Let me hear some recommendations!